I have been completely in love with this day planner since I saw it on Maegan's blog last week! I think it is about time that I break down and just buy it, because there is no other day planner like it! I promise I have looked!
I officially had a Herbalife shake every single day for the past week! I am loving the energy that they give me! They are super simple to put together! So far my favorite is the Caramel Crunch that I had yesterday, Butterfinger I am currently enjoying and Cookies 'n' Cream! Don't they sound delicious?! I can't wait to try out the other recipes that I have in store - Dirty Chai, yumm!
It has officially been two weeks since I launched the series Tough Topics and I have so amazed at all the beautiful emails and comments I have received - thank you guys so much! If you haven't had a chance to take a look, here is the Introduction and Part 2 of the story. I have planned to spread out my own personal stories throughout the next couple of months, but I will say that I have some amazing people that are joining in on the series. If you or someone you know has a story - please email me at lifeinthesunshineblog@gmail.com - I would love to add your story, your friends story or a family members story to the series!

FOUR
I can't help but look for fall wardrobe on the internet! I am so excited for the air to crisp up and get a little bit cooler - then I can officially justify buying items such as these! Isn't that Tory Burch bag just beautiful? I have been swooning over this pair of over the knee boots that Emily from The Sweetest Thing has featured on her blog a couple of times. These boots are gorgeous, but they sure are a splurge.
I won't lie that I would love to win the Fall Giveway from all the lovely girls who put together 5 on Friday! It sure has some amazing things in it!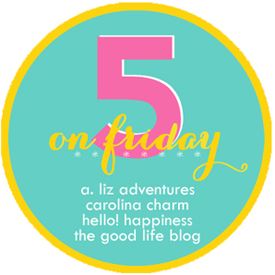 to see all the others who have linked up for 5 on Friday
!