Can you believe that Friday is already upon us,, I feel like it crept up on me this week. Only cause I still have a million and one things left to do this week. Well anyways,, its time to link up for some five on Friday.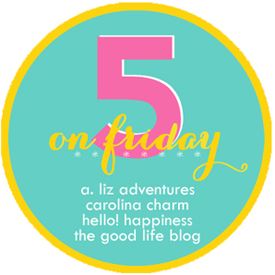 -one- While I was watching the kids on Wednesday night, dinner had to be made. Thank goodness I came across this delicious looking receipe on Lauren's blog & I'm telling you; simple, easy, delicious, and kid approved!
-two- It cooled down a few 10 or so degrees here in Southern Utah this past week and I was able to wear a sweater and a scarf. I sure love fall, and sweaters, and scarfs, and boots!
-three- I am going to become a baking queen tonight, since I have a few things to make in order to get ready for the shower tomorrow. Now that almost all my projects are done, it's time to make the goodies.
-four- My favorite products this week have to be the BB Straight BlowDry Cream that I bought and my Hot Tools Curling Wand. The blow dry cream just makes my hair straight and shiny without much effort, which gets an A+ in my book. & I have always been obsessed with my curling wand, who doesn't like an iron that cuts the curling time of your hair in half. Plus the tapered rod makes for such beautiful curls!
-five- This lady is well, how do I put this in a nice way,, stupid. I about died when I heard this for the first time. Wow, some people just have no common sense.